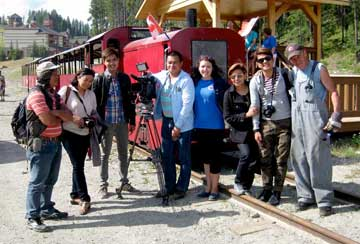 We had some wonderful visitors this Wednesday: Rochelle Hilario, Marketing and Communications Manager for Philex Mining, Cristina Stohner Tan, Head, Business Development News & Information, TV5, and a filming and production crew from TV5 in the Philippines. They have been doing a mining documentary and have visited mining sites all over the world.
They were particularly interested in the history of the Sullivan Mine and in the restoration being done since the mine closure. Also they were interested in what happens when mining is completed: how the city and area survive and progress.
The first photo shows TV5's #1 cameraman getting a spectacular shot. The bottom photo shows Cristina, Rochelle and the production crew with our own Carly Trinder, commentator, and Brent Patterson, engineer.